North shore becomes central city drive your car 1km from the old Birkenhead wharf to the new city super car park (100 000 spaces) for $5per day and stroll into the city. No more traffic jams evermore.
New Auckland The new reclaimed land is in green in the map above. The new created land would be approximately 40 square kilometers in central Auckland.
Auckland central land prices are now $4000 to $8000 per sqm
1 square Kilometer near the bridge = 8 Billion
Call over and share for World Peace
Sell 1 square kilometer of this land at the current price of $2000 per square meter
that would bring in
2 billion dollars
to pay for a large slice of the project leaving 39 square kilometers of land to fund the whole project and leave the city in a cash surplus position for years to come.
best of all its free
Imagine Rugby stadium a biggy.
Imagine Housing problems fixed
The waterfront properties Would lose some mangroves and mosquitoes and some will lose there waterfront views, and gain a bush walkway and cycle track around the old water line, the sugar company boat could moor or tie up to the existing bridge.
New Auckland Plan >>
Reclaiming Land for Auckland
New Auckland Block off the harbour at the Auckland harbour bridge the bridge length is 1020 meters the actual land points are well below this most likely around 800 meters. The one off cost to do this would be cheap get a large overseas contractor to do this in a short time.
The harbour
has bedrock of slate and sandstone at approximately 33 meters below mean sea level.
The bridge site has up to 15 meters of sediment above the bedrock.


Suggested method to block the gap
Build a large car park next to the bridge with large deep foundations and behind this large hotels with deep foundations to underpin the car park
Information on international reclaimed land projects.
The Netherlands. The Netherlands old maps Hong Kong airport video
See Auckland in 2025 >>>>>>>>>>>>>>
Auckland 2025
Hi everyone
well here it is for you brucemorgan2014@mail.com
New Auckland 2025
The New Motor ways, Who needs another Harbour Bridge or tunnel?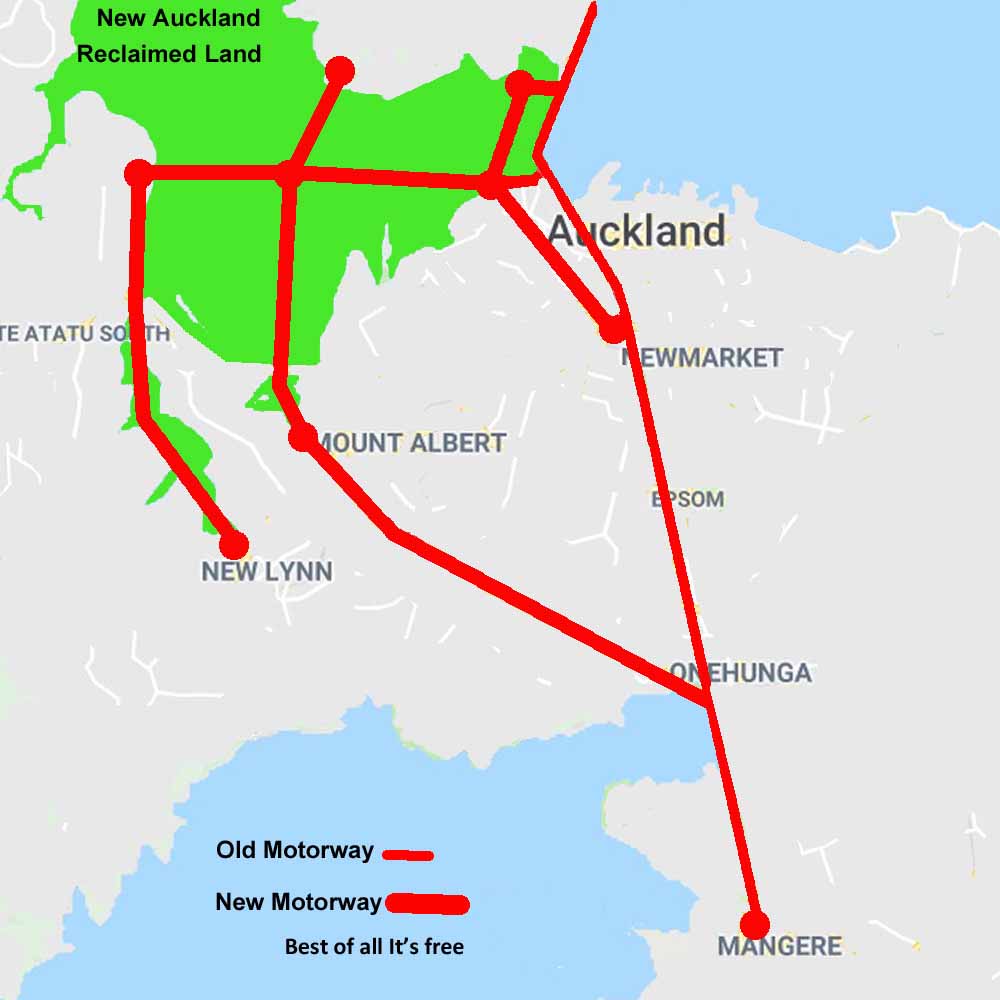 Completed projects 2025 The city's finances fixed. Housing Fixed. Traffic gridlock Fixed. Parking fixed. Rates reduced.
30 x lane North South motorways and 30 x lane East West motorways 15 x lanes each side. the motorways would be custom to link up with old Auckland, also some dedicated autobahn lanes to move things along. (Auckland's moving fast now) a motorway from te atau south to city centre 8km.
100,000 (one hundred thousand) car parks right in the city.
free monorail- or electric tram-to the city center from the car park or enjoy the 15 minute walk

New domestic airport in the city.
flights to international airport in 10 minutes using ultra quiet planes.

Rugby stadium 10 times larger
built at a fraction of the cost. The old proposed idea was to build it in the Auckland harbour with no way to get to the game and get home.

Kiwi world entertainment leisure centre. (similar to Disneyland)
Tourism has increased by 50% now

Bruce Kiwi Morgan world arts and music centre. brought in another few million visitors and tourists here by using the correct promotions.
"Unemployment fixed 2025 The unemployed are all now working on new Auckland"
New environment friendly waste disposal plant close to the city now installed.
Sweden has this sorted and so can we Visit Sweden waste recycling
Water prices in and out reduced by 90% of current price
Imagine the Housing extra close to the city this would increase the current land area of Auckland by approximately 50%
Everyone is happy now. no flies or mosquitos and a beautiful walkway and cycle track and barbeque areas. all around new Auckland.
Information on international reclaimed land projects.
The Netherlands. The Netherlands old maps Hong Kong airport video
New Zealand Dam projects. Benmore dam Clyde dam Arapuni Power Station and Dam
Building houses for the homeless people in new Zealand 2018

Back in the 1950s and 60s I remember my uncle who was a carpenter here in in Auckland he was involved in building group housing he told me that he and his mate used to build a new 1000 sqft house complete in 6 weeks on an 800 square meter section.

It has been stated in the news in 2018 that there is an approximate shortage of houses in Auckland of 30,000 .
If it took 2 men in in those times 6 weeks to complete a house or approximately 8 houses per year now with all the power tools and brainstorms this number should be halved.

Based on 2 men and 1950s technology to build a 1000 square foot house.
30,000 houses short in Auckland
1 man 4 houses per year
3000 men = 12000 houses per year
So to build 36000 new houses would take 3 years.

Next question we have no carpenters, plumbers, and electricians to build these houses here's where government has there head up there rear end, There thinking is we need to bring in migrant trades people to do this work.
3000 workers needed and so we would need 3000 houses for them to stay in?
Plus there families say 4000 houses more total. And the monies earned during this time would be remitted back to there home country and also further congesting our hospitals roads and services

Here's where and how we use our existing resources.
Council's for the next 3 years can not issue building permits for home improvements, spec housing, commercial buildings. Shop fitting, Etc freeing up local trades people to do this work.

During this period all builders and trades people would be required to take on apprentice's there wages would be subsidised 50% by the government building up our reserves of local trades people.
A ratio of 1 apprentice to 2 tradesmen giving many of our young people proper jobs.

Have you ever tried to get a plumber or carpenter or electrician in Auckland?.

Also we do a go back to the 1950s and 60s on housing finance for first home buyers
https://www.hnzc.co.nz/about-us/history-of-state-housing/

Labour Governments of the past in new Zealand have fixed these problem easily with no bull shit.
Suggestions for New Zealand
views counter 829792