" Welcome "
Bruce Kiwi Morgan Music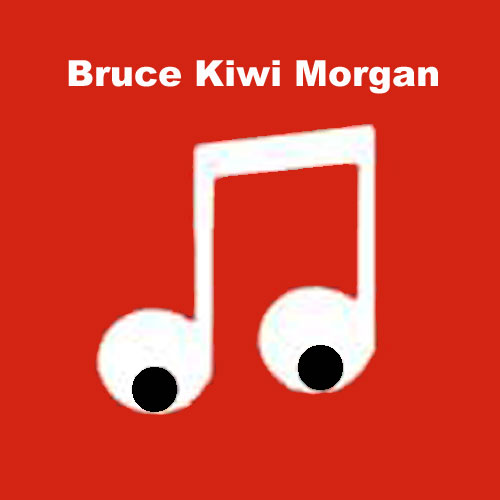 A Song for our prime minister
At the bottom of this page.
Home Is New Zealand
A Bit of New Zealand Album
Compilation Video
A Bit of New Zealand Album track list
1.Happy Farmer 2. Home is New Zealand 3. The Rest Home Blues 4. My Island Girl 5. Stuck in the Traffic 6. Doggy Doo's
7. Rotorua 8. Christchurch Earthquake 9. My Mum 10. Manurewa 11. Petone 12. The Black Boat
Send us an email to recieve our banking detail include your email address that you want the album delivered to, When payment has been recieved and cleared in our account we will dispatch the album to you.
To pay by card go to Trademe.co.nz Bruce Kiwi Morgan
Hold my hand my darling Album
Compilation video
Album Track List
1. Strings of Love 2. Sun on the wall 3. Don't kiss the Women 4. Dreams are coming true 5. Most Things are Alright 6. Just in Case
7. Hold My Hand My Darling 8. I Get Lonely 9. Morning Train 10. I'm Picking the Roses for You 11. Let's Love Another Day 12. Do You Still Love Me
Send us an email to recieve our banking detail include your email address that you want the album delivered to, after payment has been recieved we will dispatch the album to you.
To pay by card go to Trademe.co.nz Bruce Kiwi Morgan
A little ripper Feel Good Time

The Waitangi Song

Lyric's for the Waitangi Song
They all went to Waitangi emotion stirred the day they went to sign the treaty
the cheers were loud they say they shared the pork and puha rubbed noses on that day
they gathered close together and closed there eyes to pray

New Zealand is our country we thank you lord this day this land is for our children
we're kiwis on this day we'll keep it all together forgive each others ways
the hills will play our music and god will guide our ways


children of New Zealand we are born together underneath the south sky
we are joined in love our mothers and our fathers made us into kiwis
they loved this land together and that love is our today


we've shared some stormy weather and lived some beauty days we've got to stick together
and never lose our ways we'll play each others music and think before we say
the lord he gave us patience for love to guide our way
Wedding Song
Covid Sky 2020
Love's on a holiday
Thank you for purchasing my music, After you receive the email with your song files attached.
General information
1. USB sticks can be purchased on Trademe or most stores the Wharehouse, Wharehouse stationery. 1 USB stick can store hundreds of songs I would recommend using smaller size sticks for storing and arranging your favourite song genres.
2. To Store songfiles on your computer go to My Documents and create the folders you require and paste the songfiles into these and rename to suite
3. To create a new folder on your computer or stick right click where you need the folder and create.
How to Listen to Your MP3 song Files
Double-click an MP3 file. Double-clicking an MP3 file on your Desktop or within File Explorer loads the program associated with MP3 audio on your system. ...
Right-click an MP3 file and choose Play from the menu that appears.
Run Windows Media Player.

4. To use in a USB stick and make a playlist, right click on the song file and select copy next put the USB stick into the USB port in your computer and right click and paste the song files onto your USB stick. after completing create a new folder or as many folders as you may require and rename folders to suite.
5. To use your songfiles on your phone connect your phone cable to the USB on your computer and place the files into the music folder
6. If your car radio or stereo system has a USB connection plug USB stick in and follow instructions on that device.
Check out with your phone supplier to get info on your phone
Can my phone play mp3 files?For instance, audio files MP3, WMA, WAV, MP2, AAC, AC3, AU, OGG, FLAC are compatible with Android smartphones.

Can you put music on a mp3 player from your phone?If your phone is android, and has OTG, then you can easily do such a thing if it can recognize MTP devices. It will show up as a drive, and you can use the file manager on your phone or download an app to transfer the files from your phone to the mp3 player. ... * Connect your smartphone to the PC and copy Mp3 files to PC.

The music and songs on this site are the property of Bruce Kiwi Morgan and are ok for you to use for your own private use.
To publicly perform or make your own cover song you will need a licence from APRA/AMCOS the links are below.
Bruce Kiwi Morgan
views counter 3278702